We provide a springboard for learning, through a balance of structured play and teaching, promoting curiosity and confidence.
Primary school in Surrey
Your child's happiness and success is at the heart of everything we do here at Glenesk and as your child takes the first formal steps along their educational journey, we will provide them with exceptional teaching, small class sizes and superb pastoral care.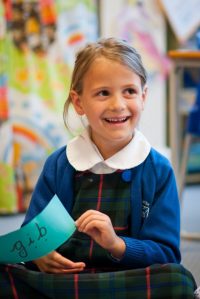 Like Nursery and Rising Reception, we continue follow an enhanced EYFS curriculum, with an emphasis on first-hand learning and well-structured play activities enhanced with a range of rich learning experiences and activities. The EYFS incorporates seven areas of learning:
Personal, social and emotional development
Communication and language
Literacy
Mathematics
Understanding of the world
Expressive arts and design
All our children learn at their own pace and our recent SIS inspection said: "Children's attainment is well above national average across early years". At the end of Reception 89 per cent of our children are working at emerging or exceeding level, 20 per cent higher than the county average.
Please click here for our Reception Timetable
Of our children are working at emerging or exceeding level at the end of Reception!
Higher than the county average!
Educational visits are organised and supported to enhance the delivery of the curriculum, along with visitors to school and involvement by parents and other caregivers, so they can support their child's individual learning journey. Our pupil's social development is very important and we put a strong emphasis on traditional values, such as good manners, respect for others and individual responsibility.
Throughout the year we build a profile of each child using observation notes, samples of work and photographs, which reflects the child's achievement and progress. You will receive regular updates with an opportunity to meet with their teacher at Parent's Evenings held in the Autumn and Spring terms, alongside access to them at all times.